How to Cancel a Premium or Basic Managed Domain
Overview
Follow these steps to cancel a paid Premium or Basic domain from your SUPPRESS account.
Steps
1. Hover your cursor over the Opt-Out Domains option under the Configuration menu and select Opt-Out Domains.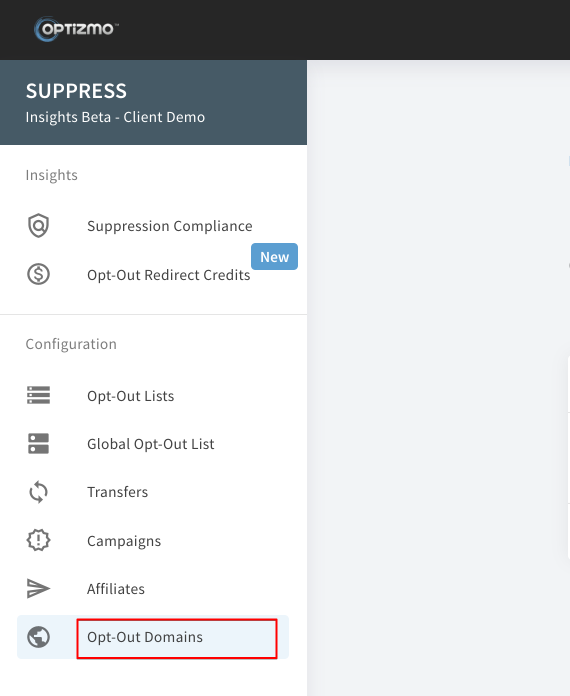 2. Locate the domain you wish to cancel. You can either select the Cancel option under the domain name.

Or you can cancel directly from the domain's page by selecting the domain's name and selecting the Cancel Basic option - (or Premium depending on the type domain).

*Please Note - you will not be able to cancel a domain if the domain is...
- Currently assigned to at the Opt-out List, Affiliate, or system level. To learn how to unassign a domain, please refer to one of the articles below.
How Do I Assign a Domain to My SUPPRESS Account?
How Do I Assign a Domain to an Affiliate
How to Assign a Domain to an Opt-Out List
- In the process of being provisioned by OPTIZMO. Once the provisioning is complete, you will be able to delete the domain.
- The last managed domain in your account. SUPPRESS will not allow you to delete the last domain because it needs to have at least one domain set up to function correctly.
3. After canceling the domain, you will need to confirm the cancellation by typing YES and selecting the Confirm Cancellation button.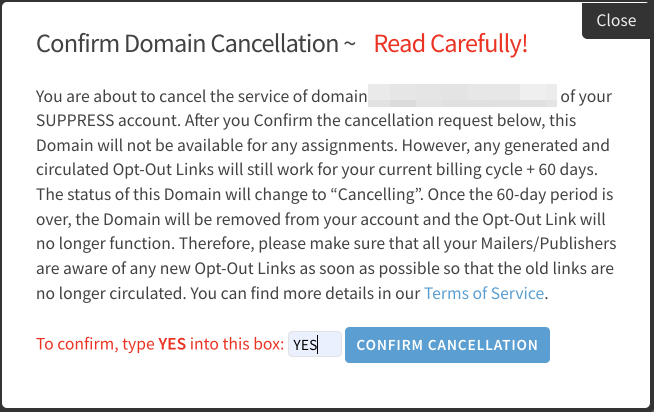 4. Once the domain is cancelled, the Status Column of the domain will say Cancelling.

*Please note - the domain cancellation is effective at the end of your billing period. Due to the CAN-SPAM Act, we will need to keep your domain active for 60 days after your cancellation, so Opt-Out Links using the cancelled domain are still functional. The last 2 months of billing is your responsibility.
To cancel a OPTIZMO Managed IP address, please review to this article: How to Cancel a OPTIZMO Managed IP Address
If you have further questions, please contact us at: support@optizmo.com.